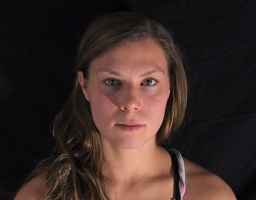 Michelle Anne Holman was born and raised in Texarkana, Texas. Holman is an artist who creates large scale oil painted portraits that stylistically use irregular paint application mixed with controlled brushstrokes and refined areas.
Recently, Holman has become interested in researching and creating work about her vision. Visual Snow/Static is a rare eye condition where she sees colorful, moving, television-like static throughout her entire field of vision. She is currently creating work using tools and materials exploring how humans see, with the addition of this moving static.
She attended Oklahoma State University where she obtained a Bachelor of Fine Arts with an emphasis in painting in December of 2014. Holman graduated from School of Visual Arts in New York City and achieved her Masters of Fine Arts, May 2017. Michelle interned at ULAE on Long Island, NY and has exhibited works in New York City, Washington, North Dakota, New Jersey, Oklahoma, and Texas.