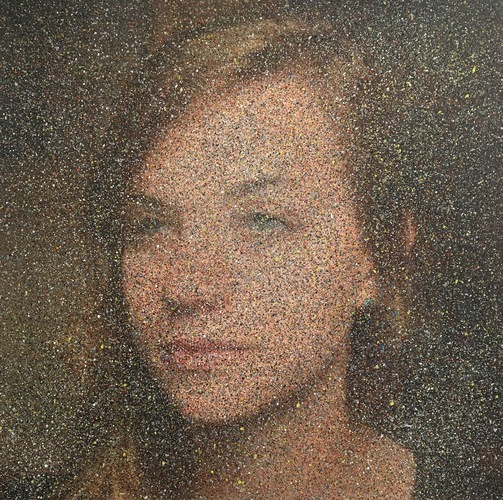 40% of the proceeds from the purchase of my Visual Snow portraits fund the research for VSI(Visual Snow Initiative)'s Global Visual Snow Research Fund.
Hello All,
I'm an artist who creates work on how I see with visual snow. I have paired up with Visual Snow Initiative to have a continuous open auction where I create visual snow images that you send me. 40% will be donated to the Visual Snow Initiative Research Campaign for each portrait purchased.

For the VS Portraits, I use photographs and paint dots on top of the image, specifically colors that I can see most within my static.
You will receive your completed image on Aluminum(rather than paper) that is ready to be hung once received. The process of receiving an image is 2-4 weeks.
If you could send over some personally photographed portrait or whatever you desire to be visual snowed for me to work from then I can get the process started. What I have noticed in the photographs I have visual snowed, the background is best visually when darker or neutral and plain(for portraits). That way the figure pops. I have some references of what I usually work from posted. I have worked from iPhone photos, maybe take a few horizontal and vertical, but if you have a camera with a higher resolution than an iPhone that works even better. I also tend to work with the figure in their natural state of emotions-not too much emotion expressed on their face. If you have any questions let me know.
16x20 inches: $450
**Price does not include shipping and tax

What I need from you:
-email me through the contact page on my website(top right tab)
-let me know what size you desire
-let me know if you want the 1. entire image visual snowed or 2. visual snow escaping the eyes(example in links below)
-any questions you have

I will contact you and request:
-payment through Venmo
- a photograph or a few where we can pick from
-your address where I can ship the piece back to you once dried and ready
I look forward to working with you!
Example Pieces:
1.
https://cm-sites.icompendium.com/accounts/michelleanneholman.com/visual-snow/1/4
2.
https://cm-sites.icompendium.com/accounts/michelleanneholman.com/visual-snow/1/6
Photos I work from examples: